Placing A New Order
Brownells.com allows you to add products to your shopping cart on product and SKU pages. Enter the quantity (Qty) that you want to order and click Add to add the item(s) to your shopping cart. After products have been added to your shopping cart the View Cart in the upper right hand corner will display the number of item(s) in your cart. Click View Cart in the upper right hand corner to see the item(s) in your cart or in the slide out and in the bottom right hand corner and start the checkout process.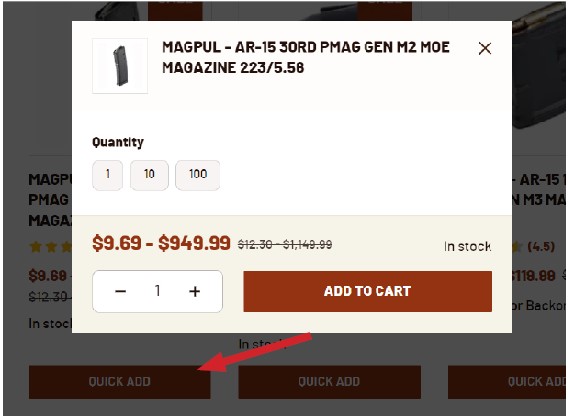 Check Out Process
After you have all the items you want to order added to you shopping cart click View Cart to go to your Shopping Cart and place your secure order with Brownells. Please review the items in your Shopping Cart prior to going to Checkout.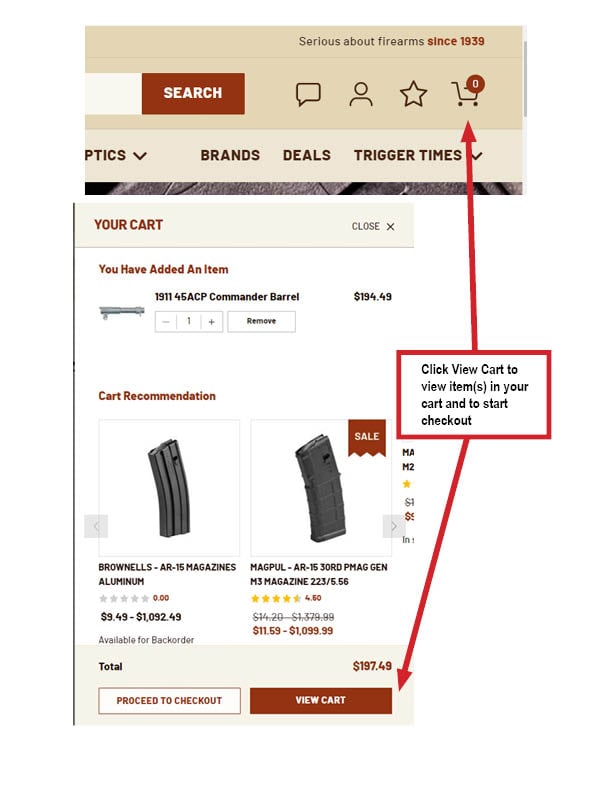 Checkout Process
Step 1 Login
To complete your order with Brownells.com, please Login if you already have an account with Brownells or select Guest Checkout.
Step 2 Shipping
Enter your Shipping Address (already completed for logged-in members). You may choose to ship to your home or pick up at the Brownells Retail store.
Step 3 Payment
Enter your Billing Address (already completed for logged-in members) and Order Contact Info.
Select your payment method and enter the required information (Credit Card, Open Account & Gift cards)
Step 4 Review & Place Order
Choose how you would like to ship your order under Order Summary
Enter any Brownells promotion codes, coupons and click Apply after entering to update your order.
Review your order to make sure it's correct, as you will not be able to change your order after this point.
We process orders as quickly as possible, cancellations or changes are not guaranteed once submitted.
Click on Place My Order
You will be charged for your items once they ship.
Additional notes: if you are logged in, you have the option for a one click checkout. With some products, you will need to have an FFL selected to checkout.