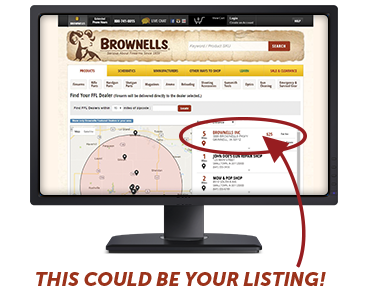 Got an FFL?
Want to earn extra money?
FIVE MINUTES

is all it takes to become a Brownells Featured Dealer!

As a Featured Dealer, you'll handle transfers to local customers who purchase firearms online from us. It's FREE to join, and you collect your transfer fees directly from the customers. Start growing your business today!
Call us at 866-277-4194
for the quickest setup service.
Please have a digital copy of your FFL. If you already have an account with us, please have your account information ready.
---
Benefits Of Being A Featured Dealer
It's a quick, easy and FREE way to earn more money, more customers, and save more time.

Earn transfer fees when our customers choose you to handle shipments

Free targeted advertsing to interested customers in your area

Featured placement on our FFL selection page

More visitors to your location and opportunties to sell other items when they pick up their firearms

Save on all your purchases by qualifying for Dealer Pricing at Brownells
How It Works
Our streamlined transfer process takes care of all the hard work.

Step 1
Call 866-277-4194 and complete the sign up process. This should only take 5-10 minutes, depending on your information. Please have a digital copy of your FFL. If you already have an account with us, please have your account information ready.

Step 2
When a customer selects your location to recieve their firearm purchase, you and the customer will recieve a shipping notification email. The email includes an overview of the order, customer contact details and tracking information to let you both know when it should arrive.

Step 3
When the shipment arrives, we encourage a call to the customer to let them know when they can pick up the firearm. Their number is provided in both the shipping email, and on the invoice inside of the package. However, the customer will also be able to track the package and know when it arrives at your location. The customer will pay your transfer fee at the time of pick up.
Why Partner With Us?
Shopping is moving online, including firearms. Great partnerships offer convenience for all parties.
8 in 10 Americans regularly shopped online in 2016

That's up from just 22% in 2000

Of those who shopped online, more than HALF of all their purchases were online

NICS checks Annually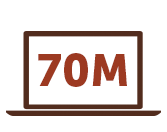 Annual Website Visits to Brownells.com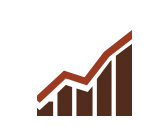 Brownells has generated nearly Half A Million Dollars in transfer fees for our dealers
What Questions Will We Ask?
Just answer these 10 questions, and you will be set up to start accepting Brownells transfers right away!
What is your FFL Dealer type?
What is your FFL Dealer email address?
What is your FFL address type?
What are your business hours?
Do you accept handgun and/or long gun transfers?
Do you accept out-of-state transfers? From what states?
What are your transfer fees for handgun and/or long guns?
What is your fee for out-of-state transfers?
Would you like your business information displayed on our FFL Locator?
Woud you like to be listed as a Featured Dealer?